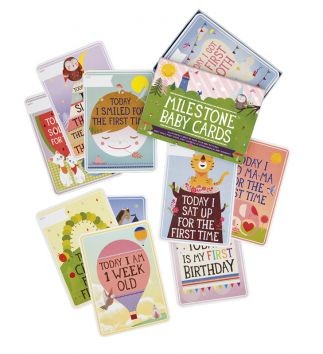 Milestone Baby cards make the PERFECT gift for a baby shower or gender reveal party.  These sweet little cards are beautifully illustrated and will be a keepsake long after these little milestones have passed.  
With options like, "Today 1 slept through the night for the first time" or "today I said my first word," the cards help to quickly and easily capture all the important moments of the first year without the hassle of a baby book.  Simply write the date on the card, snap a picture with baby (share it with friends and family!), and then file the card back into the box for memories that will last a lifetime.  
Printed with vegetable based inks and packaged without plastics, they also make an eco-friendly gift!