Probably the best part of our job is finding great toys to put in the store.  Our criteria is that if we both get excited to play with it, it's probably a good toy (and it shouldn't require batteries because nobody has time for that).  We were REALLY excited when we found these cool creations from Japanese company, Magnote.  They offer a variety of fun, and we wanted to showcase a few pieces that we've been playing with.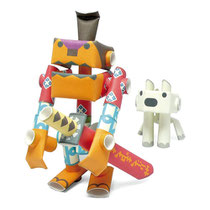 First up are the Piperoids, moveable paper figures with a lot of character.  All you need to assemble are some scissors to cut on the marked lines, then slide the paper through the pre-made holes and -voila!- you're done!  They make a great parent-kid project for kids under 10 and take about 30 minutes to make both figures.  You might have seen the adult version on the Amazing Race.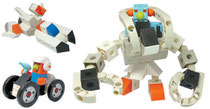 Next are the Space Adventure sets, which contain over 90 blocks to build some seriously intimidating space crafts ready for adventure.  Figures are included and each kit contains a Japanese style comic book that tells the story of each character.  3 "episodes" are available!  My 7 year old has been playing with this for days and has been brainstorming configurations & back stories like crazy!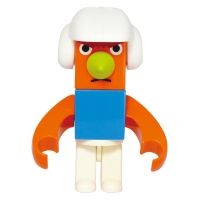 Last are the Cube Figures, buildable, playable, and interchangeable figures.  Each comes with mini decals for personalizing their looks and a removable keychain loop so they can be hung on bookbags or purses.   Cube Figures fit with any of the Space Adventure Sets, or make your adventure for them!  We have 4 figures available for now.