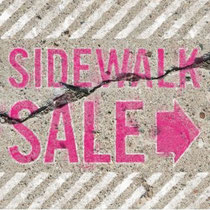 Sidewalk Sale is on for this weekend!  Stop by Friday, Saturday or Sunday for REALLY big savings!  70% off all clothing and huge discounts on toys & accessories ($1 headbands anyone?)  New this year, buy any 10 items & get 80% off!  Woohoo!  
Because the weather is supposed to be so gross on Friday, we're offering a sneak peek on Thursday.  Get here first for the best selection! 
Also, we're offering 20% off all new arrivals!  We have SO many gorgeous sundresses, bathing suits, rash guards, flip flops, sandals, summer hats, PJ's, shorts, tee's, & more!  The store is packed with everything you need for a great summer!